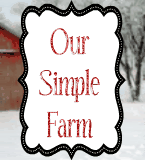 I finally figured it out. I now have a winter button for you to grab if you'd like. This farm gal is getting the hang of computer stuff!
For the rest of the week, I am going to be pushing my Facebook fan numbers. I set a goal to reach 500 fans by Sunday in order for me to release my You Can! Make Goat's Milk Soap! video. It is free, but I would really appreciate a little help from you all to get it out there. I think you will enjoy it!
It is my gift to you all! I did a survey on what video or written series you all would like to see the most on my blog. You can read the post
here
. The number one request was how to make goat's milk soap. The second was a canning video and the third and fourth were how to make lotion and a goats 101 series.
So, you asked and you shall receive! For those who did not read that post, you can still read it and put your input in even though the giveaway is over. I would love to know what you all want to see here at Our Simple Farm.
Until then, keep the likes a comin'! Also, I am pushing for 300 likes at my Eden Goat's Milk Soap and Lotion page. You can like by clicking
HERE
. Becoming a fan will entitle you to receive 10% off your next order. Look for the discount code on
Facebook
. That makes for a very low price you won't get anywhere else!
There is still time to order before Christmas!
Don't forget about Vision Forum's sale!