In case you missed the Facebook party last week, I have one more gift basket giveaway. Here is what you will receive if you win; Two bars of goat's milk soap(Chocolate Raspberry and Chocolate Glazed Oatmeal Brownie), two bottles of goat's milk lotion, one sample jar of mineral foundation powder(you choose the color right for your skin), one jar of mineral eyeshadow(you choose color), a roll-on tube of eye serum and a cute washcloth!
Valued over $45.00!
I am celebrating!
My new mineral foundation powder is online and available for purchase!
I have received many reviews from all over America and the foundation powder was a hit! What are they saying, you might ask?
Let me share with you a few testimonials!
Dana said; "Overall, I loved it!! It was easy to apply, and it looked great. The color was a perfect look on both. I loved how it didn't feel heavy and
was very impressed how great the coverage was. I wasn't expecting that. I have tried Bare Minerals, and felt like it didn't even out my
skin , but your product did!!! "
April said; "

I have rosacea and every foundation I have used has caused problems with my skin, even store bought mineral make up. I have the rosacea under control, with help of your oatmeal soap and a goat milk moisturizer, but foundations still caused burning and redness, but not yours. I wore the matte all day today and loved it, the color was great, I was using the fair, it was easy to blend, even when I had too much on my brush. I used a concealer brush to apply under my eyes and found that it does cover dark circles well. I found that my skin looked smooth and natural, and no sign of redness at all, and I could barely tell I had it on. I asked my daughter if she could tell I had foundation on and she couldn't, and my son said " wow, your skin is looking really good," and he didn't know I was trying it. The best part was when I applied it there was no tingling or burning, and even after washing my face it was not irritated."
Dorothy said; "The color was perfect for my skin and blended perfectly I like that you could not tell that I even had any foundation on! Skin was smooth and soft looking after application."
These are just a few of the reviews. I will have more on my website soon!
Enter to win the gift basket below. Keep scrolling down for the Simple Living Wednesday link-up!
a Rafflecopter giveaway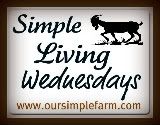 Are you encouraged by Our Simple Farm? If so, would you join me? Look to the upper left to join this blog, subscribe via email or like me on Facebook. You can also look below and become a fan by liking my blog and/or follow me on Twitter!
Linked to;
A Wise Woman Builds Her Home
,
Frugally Sustainable
,
Raising Mighty Arrows