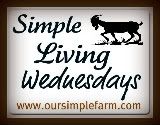 Welcome to the second Simple Living Wednesday Link-up! I loved seeing what everyone posted last week. I thank you for making the first link-up here at Our Simple Farm a blessed one indeed! Let me recap on some of the most liked links.
Rhonda, at
Walking With Sarah
, has some very insightful tips on how to sell on Ebay. Go on over and see how to get started!
Our Eventual Homestead
shares words of wisdom on how to keep costs down for those with babies. Some great frugal advice!
Now let's see what you all have to share. Anything that has to do with the following would make a great link up!
-biblical living
-homesteading
-bartering ideas
-entrepreneurial ideas(any type of income)
-homemaking
-parenting
-herbal remedies for man and beast
-anything DIY
-sustainable farming ideas and/or methods
-raising livestock info
-organizational skills
-simple living
-frugal ideas
-gardening
-and anything else that you think might be relevant
Encourage one another from far and wide and share your "simple" link!
Two things I need to ask of you;
1. Grab my button below by copying the code and pasting it on your post so others can link back here.
2. Explore one another's posts and enjoy the wealth of knowledge you all have! Remember what I said about the most likes!
Have fun!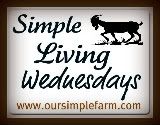 Are you encouraged by Our Simple Farm? If so, would you join me? Look to the upper left to join this blog, subscribe via email or like me on Facebook. You can also look below and become a fan by liking my blog and/or follow me on Twitter!