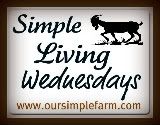 I have something up my sleeve......
In two weeks, I am having a Garden Prep Week. If you are a visual learner, like myself, then you will find that watching how-to videos on soil testing, double-digging, soil block making and a few other garden prep how-tos will be very helpful. These videos will involve myself and my children as I teach them(and refresh their memory) on certain things.
I hope that you will join me and maybe learn something new, especially if you are new to the above mentioned aspects of gardening. Even if you are an avid gardener, I encourage you to join us as it will be a fun time of working together and, yes, I can't help but throw a little humor in it too!
I love reading your posts and am thankful for you all! Last week, I forgot to change the linky code to include the "like" option, so it is here today! I don't like picking featured blogs because the posts were all so good but, who's on the spotlight from last weeks link up? Let's take a look!
The Redeemed Gardener
has some excellent advice on worm composting. A worm just isn't a worm! If you want to learn more about this, go on over there and check it out!
Great words of wisdom by
Don't Waste Your Homemaking
on teaching our children the gospel! The title of her blog alone is enough to make us do some thinking!
Easy Frugal Living
has some very interesting and informative uses for salt that I am going to try! Check it out!
Now for the link up party! Anything having to do with homesteading, biblical living, sustainable farming, entrepreneurial, bartering, off-grid living, homeschooling, homemaking, DIY and the list could go on. You get the picture, right?
Please link back here and check what others are sharing. You all have such wonderful ideas and I thank you so much for taking part in this link-up!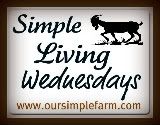 Are you encouraged by Our Simple Farm? If so, would you join me? Look to the upper left to join this blog, subscribe via email or like me on Facebook. You can also look below and become a fan by liking my blog and/or follow me on Twitter!