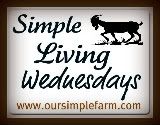 Welcome to the eighth Simple Living Wednesday link up! I hope you all are enjoying this warm weather. At least in Indiana it has been record breaking warm. The farmers are concerned about the water table, though. With a mild winter and not much snow, the levels are pretty low already, and now with this unusually warm weather without much rain, crops could suffer this year!
Before we start the fun, let me share with you my affiliate program for
Eden Natural Skincare and Cosmetics.
If you do not know about this already, I encourage you to look into this wonderful opportunity to make a little money. You do not have to buy anything, just sign up, get your affiliate code and put my Eden image on your website sidebar. When someone clicks on the image on your site, it will take them to my website. If they buy something from my website, you get 10% of that sale! Pretty simple, huh? If you would like more information go here:
Now, back to the link up! I can't tell you how much I enjoy browsing through all of your wonderful posts! I'm so thankful for your participation!
My simple rules are, to please link your post(s) back to Our Simple Farm and please read some of the other wonderful posts that everyone else has linked.
You can post as many as you want.
Ideas include anything having to do with homesteading, biblical living, sustainable farming, bartering, income ideas, homemaking, homeschooling, DIY projects and anything else you think would fit! I would love for you to grab my button!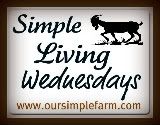 Are you encouraged by Our Simple Farm? If so, would you join me? Look to the upper left to join this blog, subscribe via email or like me on Facebook. You can also look below and become a fan by liking my blog and/or follow me on Twitter!