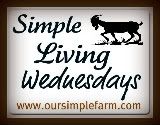 Welcome to Our Simple Farm's Simple Living Wednesday Link-Up! I am so encouraged by what you all have to share and am so thankful for your participation! Let me share with you some of the most liked posts!
If you are interested in learning how to make your own candles using leftover grease, check out
HeavensDaughter's Blog
as she gives step by step instructions with pictures and tweaking ideas.
Now, it is your turn! I can't wait to see what you all have been up to! But first, let me remind you so you won't forget,
Also, let's remember the simple rules, to link back here from your post that you have shared. Ideas include anything having to do with homesteading, biblical living, sustainable farming, bartering, income ideas, homemaking, homeschooling, DIY projects and anything else you think would fit!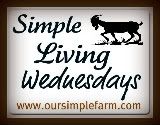 Are you encouraged by Our Simple Farm? If so, would you join me? Look to the upper left to join this blog, subscribe via email or like me on Facebook. You can also look below and become a fan by liking my blog and/or follow me on Twitter!
Linked to:
Raising Homemakers