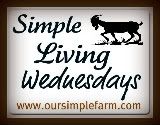 Busy, busy, busy. Those are my three words for the month of May! I do apologize for not posting as of late. Hopefully, once things settle down on the farm(is that possible?) and I start to perk up going into my second trimester, I will be a little bit more attentive to posting.
We had a great turn out with last week's link up. I enjoy your posts and appreciate all of you!
Let's see who is featured this week, shall we?
What's going on with you all this week? Come and share your great ideas!
My simple rules are, to link your post(s) back to Our Simple Farm and please read some of the other wonderful posts that everyone else has linked. Don't forget to 'like' your favorites!
You can post as many as you want.
Ideas include anything having to do with homesteading, biblical living, sustainable farming, bartering, income ideas, homemaking, homeschooling, DIY projects, recipes, gardening and anything else you think would fit! I would love for you to grab my button too!
Are you encouraged by Our Simple Farm? If so, would you join me? Look to the upper left to join this blog, subscribe via email or like me on Facebook. You can also look below and become a fan by liking my blog and/or follow me on Twitter!