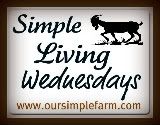 Haven't bought anything for your homesteading friends yet? It's not too late!
Today, December 19th, is the last day to order from Amazon and get it by Christmas unless you want to pay extra for shipping. The books listed here are my favorites so far when it comes to homesteading, gardening and self-sufficiency.
The Backyard Homestead: Produce all the food you need on just a quarter acre!
The Backyard Homestead Guide to Raising Farm Animals: Choose the Best Breeds for Small-Space Farming, Produce Your Own Grass-Fed Meat, Gather Fresh ... Rabbits, Goats, Sheep, Pigs, Cattle, & Bees
The Encyclopedia of Country Living, 10th Edition
The New Organic Grower: A Master's Manual of Tools and Techniques for the Home and Market Gardener (A Gardener's Supply Book)
Now it is time for the link up! Thank you to all who have shared as I love to read your posts. Keep them coming!
L
et's remember the simple rules, to link back here from your post that you have shared. Ideas include anything having to do with
homesteading, biblical living, sustainable farming, bartering, income ideas, homemaking, homeschooling, DIY projects and anything else you think would fit!